Hair · January 15, 2015
Wolf Eyes and 2015s Other Most Buzzed About Beauty Trends
Negative Space Manis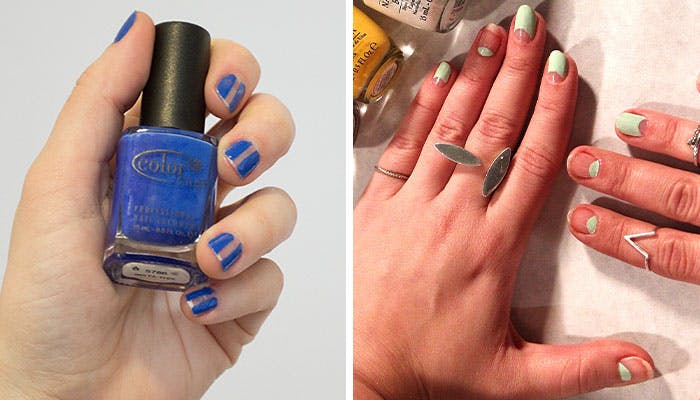 Inspired by the geometric nail designs seen at Creatures of Comfort and Charlotte Ronson, this mani is about the polish thats not on the nail. Editor Maura attempted the peek-a-boo look by placing carefully cut strips of Washi tape on each nail from base to tip, followed by two coats of Color Clubs Insta-This. Once the polish dried, she removed the tape strips and painted over it with a clear topcoat. The result: You can get a unique mani without having to go overboard with glitter or nail art, she says.
Fresh Floral Hair Accessories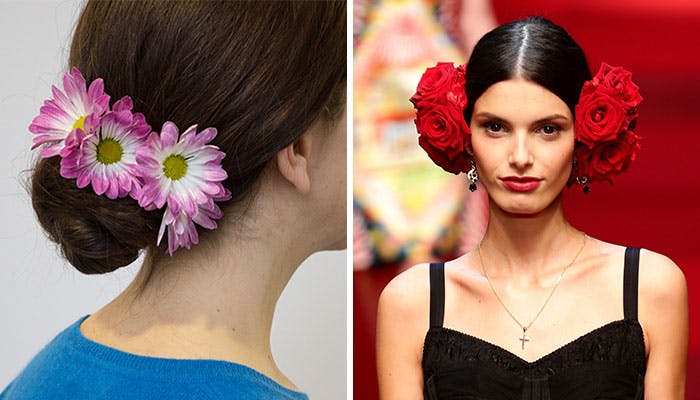 This romantic trend seen at the Dolce & Gabbana runway show is a little over the top, but getting the look IRL actually requires little more than a trip to the deli. Director of Editorial Operations Bene started by gathering her hair into a low chignon, held in place with bobby pins. Next, she cut a few buds from a bouquet of mauve daisies she picked up at a bodega and placed them around the base of the bun, securing the stems with additional pins. I would do this in real life for a special event, says Bene. Plus, it smelled so nice!
Wolf Eyes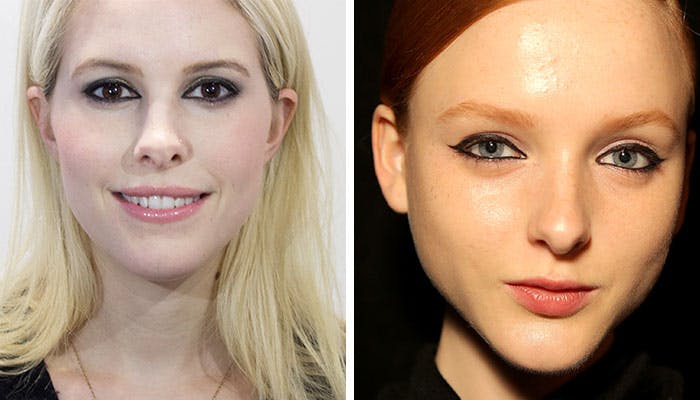 Sounds intimidating, right? But the dramatic liner trend, which weve seen everywhere from YouTube to the Diesel Black Gold fashion show, is not so scary to pull off. Senior Video Manager Lorelei lined her lower lashes and waterline with Vasantis Kajal Extreme Intense Eye Pencil, then lined her top lash line with Benefits Theyre Real! Push-Up Liner. The trick to getting the oversized point at the inner corners of your eyes, says Lorelei, is using the angled edge of the Benefit liner to stamp the line onto your inner corner. Finish by filling out the rest of your lid with smoky shadow.
Smudged, High-Impact Lips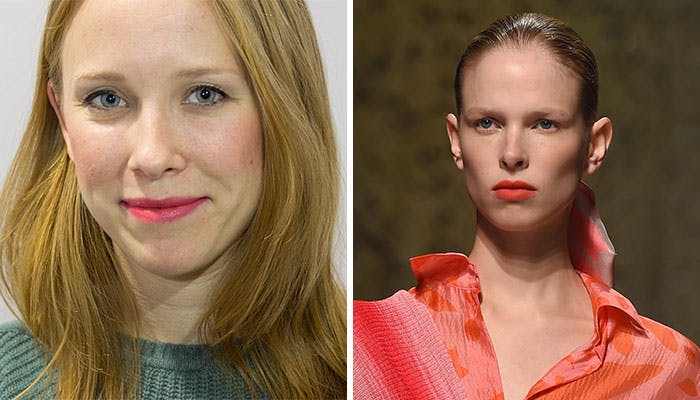 This years lip is loudfuchsia, classic red, and electric poppy were all spotted on Spring 2015 models. And impreciseit should look soft and feathered. Associate Editor Lauren applied MAKEs Silk Satin Lipstick in Miami Beach, then used her finger to lightly pat and smudge the edges of her lips. I found it less intimidating because the look wasnt so exact, says Lauren. Its a less scary way to rock a bold lip.
Clumpy Mascara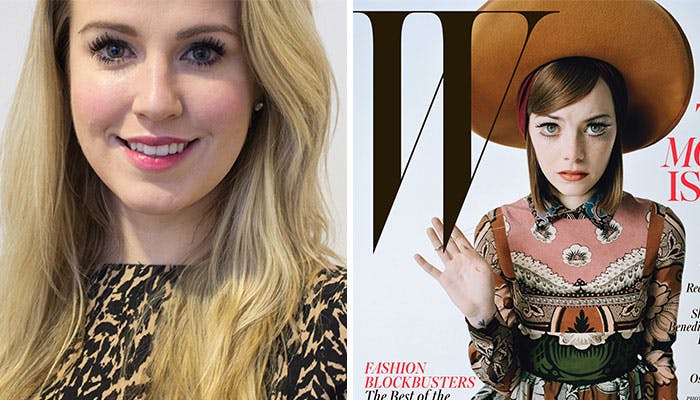 2015s do this dont moment comes courtesy of intentionally clumpy lashes. We first spotted them backstage at Cynthia Rowleys Spring 2015 presentation and they have since popped up in fashion mags, including W magazines recent Best Performances portfolio. Social Media Manager Juliette used seven different mascaras to get this 60s-referencing look, then bunched her lashes together using her fingers. The big difference is how dramatic it is on the bottom lashes, she says.
Plum Flush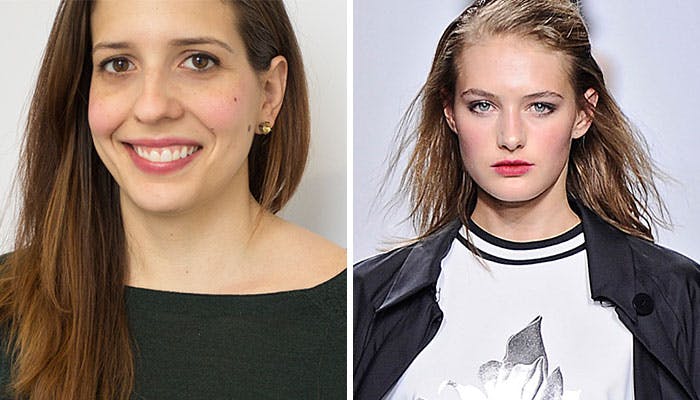 If last year was all about plum lips, this year ushers in plum blush, as seen at TopShop Uniques Spring 2015 runway show. Thankfully, our trusty Cynthia Rowley Beauty Creamy Lip Stain in Dahlia works just as well on our cheeks as it does our lips. To prove it, Associate Editor Valerie applied a few dots to the apples, then used her fingers to blend the pigment toward her ears. I felt crazy putting dark plum on my cheeks, but as it blended I was surprised how smooth and romantic it looked, she says.
Photos: Runway - Getty Images