Food · January 21, 2015
How to: Eat Avocado Toast For Every Single Meal
Breakfast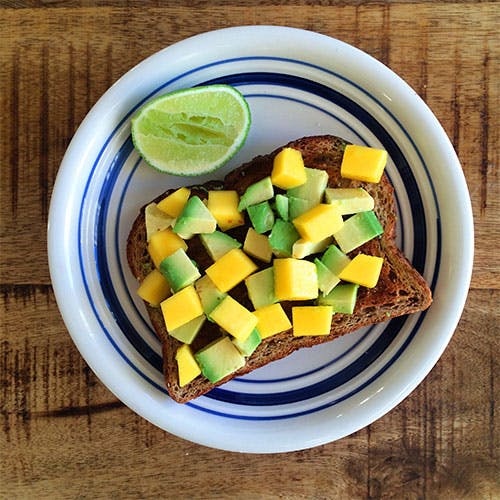 Tropical Avocado Toast: Integrate (more) fruit into your A.M. routine with this fresh twist featuring mango and coconut oil. Itll give your humdrum toast an island vibe to get you through winter.

Recipe: Toast a slice of multigrain bread. Spread toast with coconut oil. Top with diced mango and diced avocado. Squeeze a lime wedge over top.
Lunch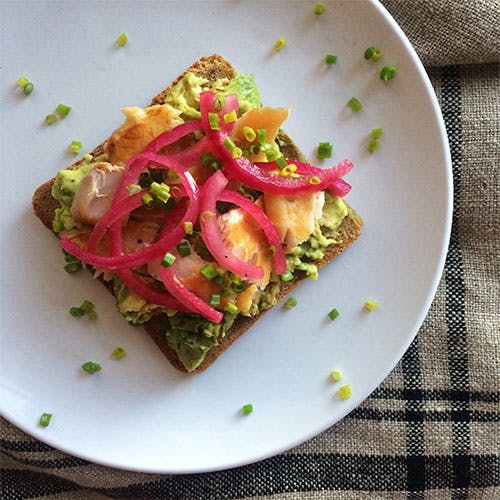 Deli-Style Avocado Toast: Ever pickled your own onions? It only takes about two minutes of hands-on time and transforms avocado toast into an open-faced sandwich.

Recipe: The night before, pickle onions: In a jar, combine 1/2 cup apple cider vinegar, 1/2 teaspoon salt, 1/2 teaspoon sugar, and 3 black peppercorns. Stir until sugar is dissolved. Add 1/2 red onion, thinly sliced. Shake to combine and refrigerate overnight. The next day, toast a piece of rye bread. Top with mashed avocado, smoked trout, and pickled onions. Sprinkle with thinly sliced chives.
Snack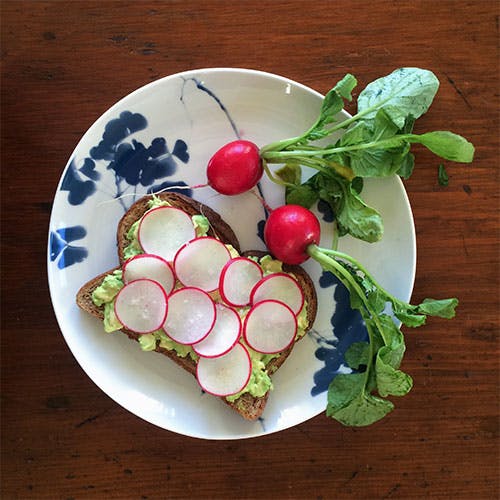 Radish & Avocado Toast: Inspired by the classic French canap of butter and radishes, smooth and creamy mashed avocado takes the place of butter (trust us, you won't miss it).

Recipe: Toast a slice of wheat bread. Top with mashed avocado and very thinly sliced radish. Sprinkle with coarse sea salt, such as Maldon.
Dinner
Steak & Avocado Toast with Garlic-Herb Sauce: How's this for a steak dinner? Tangy sourdough toast and a bright herb sauce balance out the richness of the steak and avocado.

Recipe:

1. Lightly brush a thick slice of rustic sourdough bread with olive oil and cook in a grill pan on medium-high heat until marks appear, about 3 minutes per side.

2. Season a 3/4-inch-thick strip steak with salt and pepper and grill to medium-rare, about 2 minutes per side.

3. In a small bowl, combine 2 tablespoons of finely chopped cilantro, 2 tablespoons of extra virgin olive oil, 1 tablespoon minced Italian parsley, 1 tablespoon of red wine vinegar and 1 finely chopped garlic clove. Season with salt and pepper.

4. Top sourdough toast with smashed avocado. Thinly slice steak and arrange on top of avocado. Drizzle with garlic-herb sauce.
Merritt Watts