Makeup · June 17, 2015
The Liner That Convinced Me Brown Isn't Boring
When I first started wearing makeup as a teen, I adopted my moms product routine as my ownthat meant brown eye pencil, mascara, concealer, and lip gloss (red lipstick, which has long been her signature, came later). Whenever I tried wearing black liner, shed say, Its too harsh! and back it went, into my makeup kit.
It wasnt until college that I added black liner to my daily routine, sometimes lightly smudged along the top lash line, other times drawn along the waterlines. It was a sort of rebellion, I suppose, wearing something bolder and bucking my moms advice.
Over time, I accumulated an arsenal of black liners with different tips and textures, eventually settling on a thin black liquid liner as my trusty go-to. Id wear it alone for a simple cat-eye or blend a little black eye shadow on top for a softer, smoky look.
Recently, I started to use less black liner so I could play with more color on other parts of my facepink-purple ombre lips have become my summer stapleopting instead for a sweep of brown pencil or bare lids with just mascara. Then I got my hands on Benefits Theyre Real! Push-Up liner in their new rich brown shade, and its made me give up on my black liner ritual entirely (at least for now).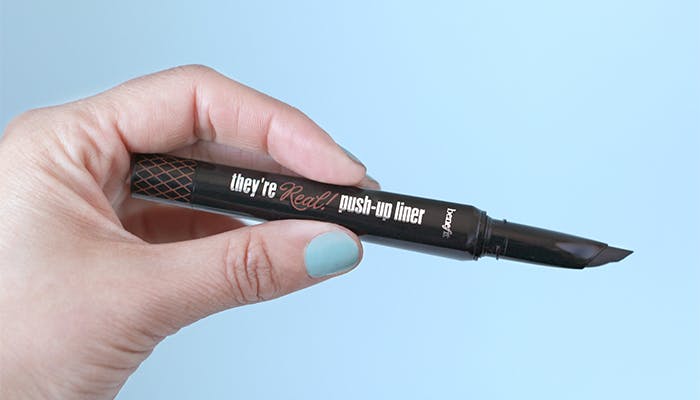 Why? First, it has a cool Accuflex tip that dispenses just the right amount of product and pushes your lashes down so you can get really close to the lash line. Its insanely easy to build the boldness of your cat-eye, from a delicate thin line to a dramatic mod look that covers your whole lid.
Second, its hands-down the most budge-proof liner formula Ive ever tried. In the few weeks Ive been wearing it, its withstood dips in the pool and ocean, watery eyes (which I have a bad habit of rubbing), a sob fest, and a 7-hour flight. Ive also fallen asleep with it on and woken up to find it still mostly in place. I dont know what Benefit put in this stuff, but its magic.
Another reason this particular liner has convinced me to embrace brown again? It gives me the freedom to play with unexpected cat-eye applications without looking like Im dressing up for Halloween. The under-eye wing Ive been wearing would look a bit too overdone for everyday if it were in black; but in brown, its a subtle eye-opener that I feel comfortable wearing pretty much anywhere. It also looks like an extension of my natural lash line when I swipe a super thin line across my lid, allowing other makeup (like those ombre lips) to take the spotlight.
So while my black liners have taken a summer hiatus, Benefits brown one has earned a permanent place in my makeup bag. And Im realizing that my mom may have been right all along.