Style · April 1, 2015
5 Unique Takes on the Ultraslim Wallet
The Hybrid: J. Fold Jungle Magnetic Front Pocket Wallet, $59.50

Money clip meets card case in this handsome leather accessory. Surprisingly versatile in a muted camo print, it features curved slots for easier access to cards (not to mention visual intrigue). In a brilliant modern twist, a magnet takes the place of a traditional metal clip to keep bills in place.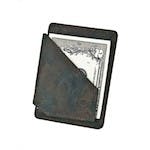 The No-Fuss Flap: Jack Spade Dipped Leather Vertical Flap Wallet, $98

Made from American nubuck leather and dipped in rubber, this wallet has the feel of a bifold but a slimmer silhouette. Three card slots and a flap for cash provide plenty of space while remaining unobtrusive in your pocket (or hand). Color blocking and a matte finish lend extra swagger to this leather stunner.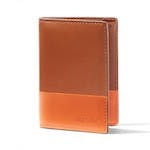 The Modern Bifold: Orchill Concord Wallet, $44.99

Turning the traditional bifold on its head, this unique design features two horizontal card slots on one side, and a classic spring-steel money clip on the other. Equally unique is the marbled leather exterior, with a perforated pattern that enhances its look and feel.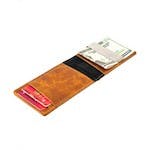 The Information Vault: wrkin stiffs RFID Magic Wallet, $40

Keeping your wallet in-hand wont protect you from digital robbers. This one has a hidden alloy matrix to shield credit cards, licenses, and other sensitive items from the Radio-Frequency Identification (RFID) scanners used by identity thieves. And thanks to an Italian calfskin leather exterior, no one needs to know.
The Classic, Refined: Bison Made No. 6 Wallet, $125

If you cant part with tradition, at least do it right. Made of Midwestern leather and stitched in the U.S., this beautifully detailed wallet features sloped card slots for easy access, and a branded bison that honors its American roots. To keep it slim, choose one card per slot and keep your bills and receipts in check.