Grooming · June 17, 2015
Birchbox Man Q&A: Jonathan Dubuque, Founder of das boom industries
What was the impetus for founding das boom?
It began with my other company Level Naturals, a vegan, gluten-free, unisex product line. It has a primarily female demographic, and I wanted to work on a line that was primarily for men. Frankly, men need the most help with their skin.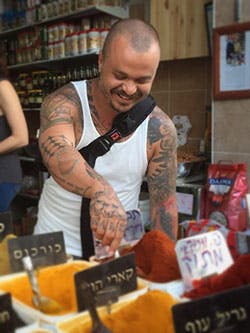 I wanted to do something with scent that told you a story and took you someplace. I also wanted something that was memorable, with notes you could call out, not just an unidentifiable scent with an intense name. With those scents I wanted a product that was also awesome for your skin and super versatile. So, about three years ago, I started working on this line of really interesting scents that I thought would really attract people to the men wearing those blends.
Why do you want to dedicate your time to grooming?
I dedicated myself to grooming on accident. Ive been a pastry chef, a designer, a photographer, and a slew of other things. I had a major case of occupational ADHD. When I was on my farm in Hawaii with a friend, we started thinking about soap and how the stuff we were using sucks. I got fixated on the chemistry behind the products and what our bodies did when we used them. Like the reaction of gluten from topical use, and its effect on the nervous system to those that have an allergy. Or sulfates and parabensall stuff we dont mess with. After a year of studying and making a ton of mistakes and nearly blowing up a garage in Van Nuys, formulas started working and pieces started falling into place.
Why did you pick the name das boom?
I wanted to tell a story, and something that really inspired me was the industrial boom that started in 1940. Roosevelt was broadcasting a message of support on the radio:
They ask us for the implements of war, the planes, the tanks, the guns, the freighters which will enable them to fight for their liberty and for our security....We must be the great arsenal of democracy.... We must apply ourselves to our task with the same resolution, the same sense of urgency, the same spirit of patriotism and sacrifice as we would show were we at war.
He sparked something there that got people together, working with their hands for a common good. It was a call to people to raise up and build things from wood, metal, grease, and sweat to protect the world. In a huge way, even before America was brought into the war, Americans were exposed to this larger place, this bonding element of our hands became a commonality across the country.
How do you choose new scents, and what inspires the process?
Travel! I have spent so much of my life with a backpack and a passport. When I work on a new scent, I think back to moments that meant something to me. My first barber shave, my first bite of real incredible sushi in Japan, hiking through the forest and burning tree branches and smelling the sap on my hands. Those moments are what i go back to when I build scents.
Which part of a grooming routine do most men overlook?
Moisturizing is definitely the number one overlooked thing. I get that its not fun to cover yourself in some lotions, but you know what? You're gonna look like a leather bag by the time you are 40. Moisturize! People like to touch soft skin. Im a fan of rough hands and what they stand for, but your face and arms, etcetera they should be soft to the touch and healthy. The older you get, the less moisture you retain in the upper layers of your skin, so you gotta take care of that, or its gonna crack and you wont like what you are left to work with.