Hair · July 10, 2015
Why Your Hair Needs a Primer, Too
You Dont Need to Reapply Them
Whenever youre using a heat tool that reaches 300+ degrees, you should apply a heat protectant. The best part about these primers? You only need to apply them onceyou dont need to re-apply the primer after blow-drying if you then decide to go over your hair with a flat iron. Apply a nickel-sized amount if hair is above your collarbone, or quarter-sized amount if hair is longer than your collarbone, from the high mid-lengths (just above the ears) through the ends.
They Use the Heat from Hot Tools for Good

If you use flat irons and curling irons regularly, Kerastases heat-activated Ciment Thermique will help you harness all that damaging heat and use it to your advantage. High temperatures drive the strengthening fibers in the primer's formula into the hair to create a top seal that protects each strand from external damage and breakage from brushing. (If you see a light steam while using a hot tool, that means the product is protecting your hair.) To disguise damage thats already been done, add a little extra Ciment to your ends before using a curling iron to create texture throughout.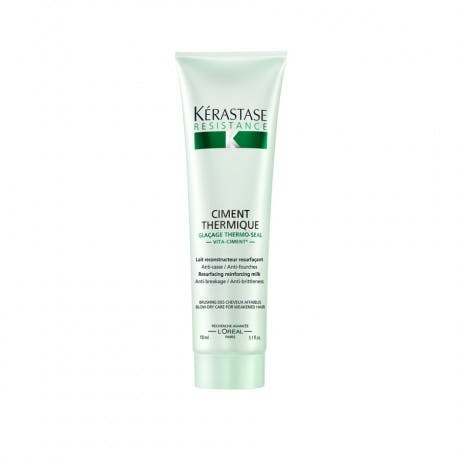 They Make Blowdrying 10 Times Easier

If blowdrying is a regular part of your routine, Nectar Thermique will make the whole ordeal much less of a hassle. Its hydrating formula not only replenishes parched strands, but when applied to damp hair from roots to ends it helps the bristles of round brushes glide through while drying. Keep in mind that if your texture is extra course or thick, you'll want to blot (not rub!) your hair with a towel before applying your primer to remove excess moisture.
They Fight Frustrating Frizz

If stepping outside into the summers humidity instantly reverses any styling you do at home, prime your hair with Keratine Thermique, which uses a special polymer to create a hydrophobic film around each strand of hair. Before you leave the house, apply a nickel-sized amount onto dry hair from roots to ends, then use a flat iron to seal the products moisture into the hair fiber; this will keep external moisture out, while leaving an intense, sunny day-worthy shine.