Nails · January 2, 2015
How to: Remove Glitter Nail Polish Without Losing Your Mind
Cover Nails With Acetone-Based Remover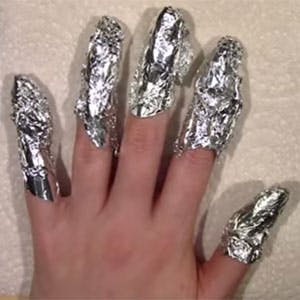 Take a note from the pros at your local salon and soak your nails in a mild acetone remover. Try this DIY version at home: Use strips of tin foil to secure cotton balls soaked with remover (we like Zoya's Remove Plus Nail Polish Remover) to your nail bed like this, and leave for 5 to 10 minutes in order to completely saturate the polish. When time is up, your glitter should come off in one swipe. Be sure to rehydrate your nails post-removal with a moisturizing cuticle oil.
Try Durable Wipes Instead of Cotton Balls


If you don't have time to soak your nails, try wipes instead. Durable, single-use cloths like RUFFIAN's Dressing Room Nail Lacquer Remover Towelettes stay in tact even when scrubbing away layers of glitter. Single-use packets like Deborah Lippmann the Stripper to go and LA FRESH's Eco Beauty Acetone-Free Nail Polish Remover are also tough enough to disintegrate textured polishes. Just hold the wipe to your nail for 30 seconds, then wiggle it back and forth to remove the glitter.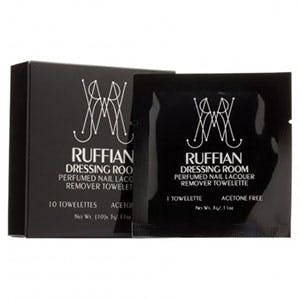 Prep With a Glitter-Specific Base Coat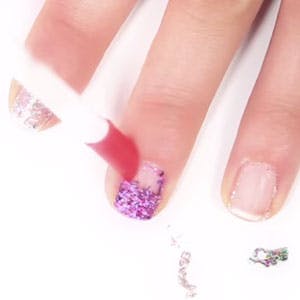 Before you paint your nails with your favorite sparkly polish again, protect them with a base coat that will make it easier to remove like OPI Glitter off Peel-Able Base Coat. One coat of this formula will allow you to simply peel off your polish when you're over it.
Author
Maura M. Lynch
Burt's Bees addict. Watches way too much TV. Has never turned down a french fry.