Skincare · August 28, 2015
Now You Can Get a Tan While You Shower
Anyone whos ever wasted an hour sitting half-naked in her bathroom trying not to smudge an application of self-tanner knows that the worst part of getting a faux glow is the waiting game. But this summer, our at-home tanning game is getting a convenient update thanks to St. Tropez Gradual Tan In Shower Lotion: Instead of making you sit awkwardly still for 60-odd minutes (talk about Naked and Afraid), St. Tropezs new formula allows you to tan in a place you were already planning on being anywaythe showerin just three, three-minute applications spread over a few days. Too good to be true, you say? We had our own Lorelei take the tanner for a test drive in advance of her friends wedding in Cape Cod:
Day 1 | First Impression
Despite my concerns, my first application was surprisingly easy! The instructions are as follows: After washing your body, turn off the shower and apply the product all over in circular motions, wait three minutes, then rinse. (The hardest part was setting the timer on my phone to make sure I waited the full three minutes before rinsing.) Some online reviews I read warned that water splatters on your legs and armswhich where hard to avoid with my wet haircould lead to spotty areas. I havent seen any streaks, but just to be safe Ill definitely bring a clip to hold up my hair tomorrow!
Day 2 | Starting to Glow
My second in-shower application was even smoother than the day before. I love that the gradual nature of this tan means I dont have to worry about applying it perfectlyI was initially worried that there would be a line on my neck where the lotion stopped, but it looks completely natural. Maybe Im imagining things, but Im already looking tanner.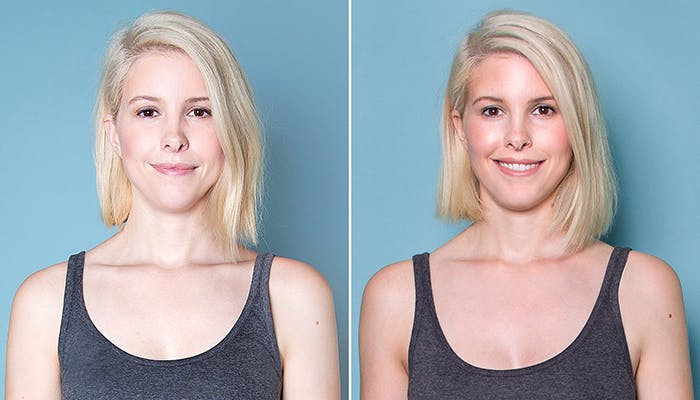 Day 3 | Wedding-Ready Results
After three applications Im seeing a big difference in the color of my skinespecially on my legs. Its developing really naturally so it doesnt look like I have a fake tan! Im heading to a wedding in Cape Cod this weekend, and Im so happy I dont have to pay for a spray tan.
Day 4 | Final Thoughts
At the end of my three-day trial, I can honestly say I plan on substituting the in-shower lotion for my special-occasion airbrush tans. I like that its not a dramatic transformation; instead, this is about getting subtle, natural-looking color. (On the day before my friends wedding, I applied the lotion to my face, which gave me a barely-there glow without making my complexion look orange.) This is definitely staying in my shower throughout the fall and winter!
Author
Maura M. Lynch
Burt's Bees addict. Watches way too much TV. Has never turned down a french fry.