Outdoors · June 24, 2015
The Great North American Road Trip You Should Take Before You Die
1. Key West, FL
Starting at mile zero of the O.G. Open Road (Route 1), it would be criminal not to take in a sunset before you go. So raise a few Hemingway-toasting mojitos (and sleep them off) before heading up the Keys. As youre crossing the Keys on the Overseas Highway, make sure to look north at mile 73 for a series of concrete supports sticking out of the water next to Veterans Keythese serve as memorial to the 400+ WWI veterans and civilian workers killed in a 1935 hurricane as they built the first highway bridge here.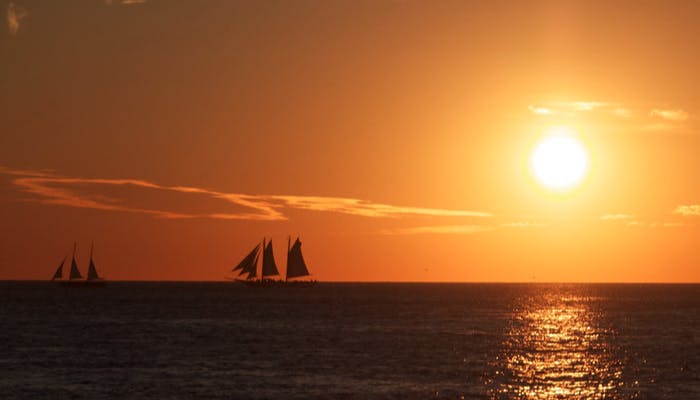 2. Savannah, GA
643 miles, 10 hours

From Miami, head north up I-95 across the Florida-Georgia Line. (Yes, youre required by law to queue up their song Cruise when you cross the border.) If you need a little wilderness adventure, stop off in St. Marys, GA and catch the ferry to Cumberland Island National Seashorea pristine barrier island wilderness with wild horses, alligators, 17 straight miles of undeveloped white beach, and only 300 visitors allowed per day on an island longer than Manhattan. Not in the mood for nature? Savannah has one of the best artand barscenes on the East Coast.
3. Decatur, AL
480 miles, 7 hours

With a road trip this long, you need a mission to keep morale high, so pick a pleasure: Battlefields? National Parks? Music icons? We're going with some of the world's best BBQ joints. There may be none better than Big Bob Gibson in Decatur, AL, which truck-driver-turned-barbeque-guru Ray "Dr. BBQ" Lampe says he would drive 500 miles out of his way to visit. Don't miss their trademark chicken in Alabama white sauce; its the best fowl youll ever eat.
4. Kansas City, MO via Memphis, TN
642 miles, 10.25 hours

Time your itinerary right, and you can make Memphis in time for a lunch of the best ribs youve ever had at A&R Bar-B-Que on Bellevue Boulevard. Then you could find yourself a nice blues club to rest for a bitor head straight for Kansas City for a triumphant BBQ Triple Crown dinner (and inevitable meat sweats) at the legendary Arthur Bryants. Cap your evening with some jazz at The American Jazz Museums Blue Room.
5. Deadwood, SD
742 miles, 11 hours

Head north up I-29 through Omaha and Sioux Falls, just so you can experience the least dull trek (that is, across South Dakota) while traveling the very flat plains. This leg is good practice for your forthcoming trek across Canada and Alaska. Reward yourself at the end of the day with a visit to Mt. Rushmore and Crazy Horse monuments in the stunning Black Hills, then indulge in a delicious steak at Deadwood Grilleand maybe a little gambling while you're in town.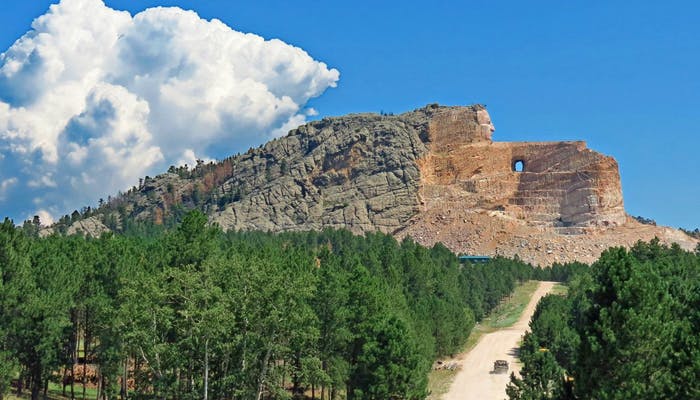 6. Yellowstone, WY via Devils Tower
442 miles, 7.5 hours

Following your National Park tour of South Dakota, youll do the same in the U.S.s least populous state, first hitting Devils Tower. The igneous rock monolith is a climbers dream, but is also deemed sacred by numerous American Indian tribes. Dont stay too long, as youll want to save plenty of daylight for Yellowstone. Your trip is incomplete without witnessing the Old Faithful geyser, and keep your eyes peeled for grizzly bears, bison, and elk along the road.
7. Coeur DAlene, ID
429 miles, 6.5 hours

The natural beauty along this trip is just beginning. Youll now drive northwest through Big Sky country in Montana, right up the chimney of Idaho to Coeur DAlene. The city and lake here are your playground: Stretch your legs on a hike, practice your swing on one of its many golf courses, or take a boat out for some fishing. With so much sightseeing in the past few days, this is your chance to take a vacation from your vacation and really find respite.
8. Banff, Alberta, Canada
331 miles, 6 hours, plus Customs

You may have missed the Rocky Mountains of Colorado, and this leg of the journey is your atonement. Wind the forested roads into Banff National Park for another day of hiking (or rafting and hot springs), making Lake Louise your target for the day. Youll be short of air, given that the lake is nested among the mountains at an elevation of 5,033 feet. Plus, the mere sight of it will render you totally breathless.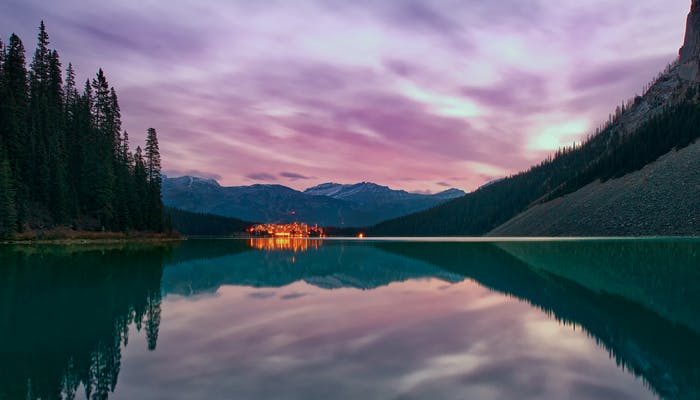 9. Prince George, British Columbia
409 miles, 8 hours

Make sure youve got some space on your phone for photosand plenty of patience for frequent pull-oversbecause this stretch of road up the Trans-Canada Highway is some of the most stunning driving North America has to offer. More than half of it is within the boundaries of Canadas Banff and Jasper National Parks, offering rugged peaks, thick evergreen forests, and sparkling clear rivers. Its pretty much impossible to find a bad camping spot.
10. Fort Nelson, BC
530 miles, 8 hours

Head north up Route 93 to Dawson Creek, BC. Theres no Van Der Beek to be seen, but you will find the start of the rugged and historic Alaska Highway. Although almost all of it is in Canada, the Alaska Highway (or Alcan) was built by and for the U.S. military in WWII, to help defend against Japanese invasion and to supply a series of airstrips that would send planes to Russia for combat against Germany. A modern marvel of pragmatic engineering, its almost 2,000 miles were completed in just eight months through some of the most challenging and remote (and, at the time, unmapped) terrain on the planet. Theres not much in the way of amenities along the way, so be sure to load up on grub and gas when you can, and plan to spend the night in Fort Nelson.
11. Whitehorse, Yukon
590 miles, 12.5 hours

This long stretch of the Alaska Highway officially qualifies as the middle of nowhereand you dont want to miss a mile of it. If nothing else, make sure to stop at Muncho Lake at mile 454 to see the impeccable turquoise water. Further up the way, Laird River Hot Springs Provincial Park (mile 496) has multiple natural hot springs to soak your tired back, and almost jungle-like foliage that seems completely out of place. Next, check out Watson Lake on the Yukon border (mile 635), where a soldier started a tradition in 1942. He placed a signpost pointing home, and today there is a surreal forest of more than 60,000 signs. And in Whitehorse, dont miss Gold Rush history and the largest wooly mammoth ever found in North America.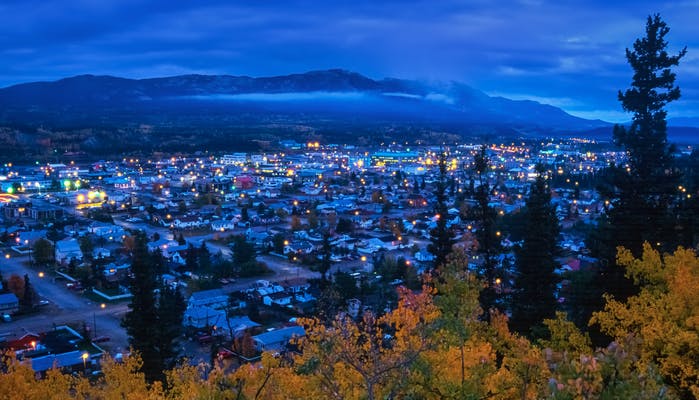 12. Fairbanks, AK
588 miles, 11.5 hours, plus Customs

After running along the edge of Kluane National Park (part of the single largest expanse of protected wilderness area in the world), youll finally be back in the U.S. of A. Across the border in Alaska, the town of Tok is worth a stop or a turn if you want to take a side trip down to Denali or Anchorage. Although Delta Junction is technically the historic end of the Alaska Highway, the road continues into Fairbanks, where you can find all the amenities of homeso skip them and get the best breakfast in town at the Cookie Jar.
13. Coldfoot Camp, AK
254 miles, 6.5 hours

By the time you reach Fairbanks, you should stock up on extra gas cans, a couple spare tires, a CB radioheck, you might just want to trade in your Prius for a beat-up old pickup. The rugged, mostly dirt-and-gravel Dalton Highway runs north from here: A "Haul Road" for barreling trucks that only opened to the public in 1996, it has claimed its share of weaker vehicles. Take it slow and rest up at the only real spot with amenities along the way, Coldfoot, the northernmost truck stop in North America (founded by a former Iditarod champ, no less, who originally sold hamburgers out of a dilapidated school bus).
14. Prudhoe Bay, AK
246 miles, 7.5 hours

Although the worlds greatest road trip (like all good things) must come to an end, youre certainly ending on a high note, driving north across some of the most starkly beautiful landscape America has to offer. As you top Atigun Pass and head down the long North Slope, youll have Gates of the Arctic National Park towering on your left and Arctic National Wildlife Refuge on your right. Before you know it, youll be in Deadhorse and Prudhoe Bay with no more road to explore. (As a reward for your long journey, you should book an Arctic Ocean tour.) Then, take off your shoes, put your pedal-tired feet in the icy water, and ask yourself, Now where do I go? How much is a plane ticket home?
Total mileage: Roughly 6,326 miles
Author
Nathaniel Nagy
Copywriter, cold brew advocate, purveyor of handcrafted birthday haikus since 2009.