Hair Style · August 10, 2015
How to Make One Dress Work for Two Different Weddings
Wearing the same outfit two days in a row is usually considered a fashion faux pas, but when youre attending two back-to-back weddings in one weekendlike our Social Media Director Rachel Jo Silver amazingly didrewearing last nights dress looks a lot more tempting, especially when youre in love with it as much as RJS is with her red Helena Quinn number: Its literally my favorite dress Ive ever worn except for maybe my wedding dress. The easiest way to make an outfit feel brand new in your (and your Instagram followers) eyes? Style it with a completely different hairstyle, makeup look, and jewelry. Here, Rachel shares how the products she packed made her dress feel fresh for each wedding.
The Dress: Helena Quinn Kate Wrap Maxi Dress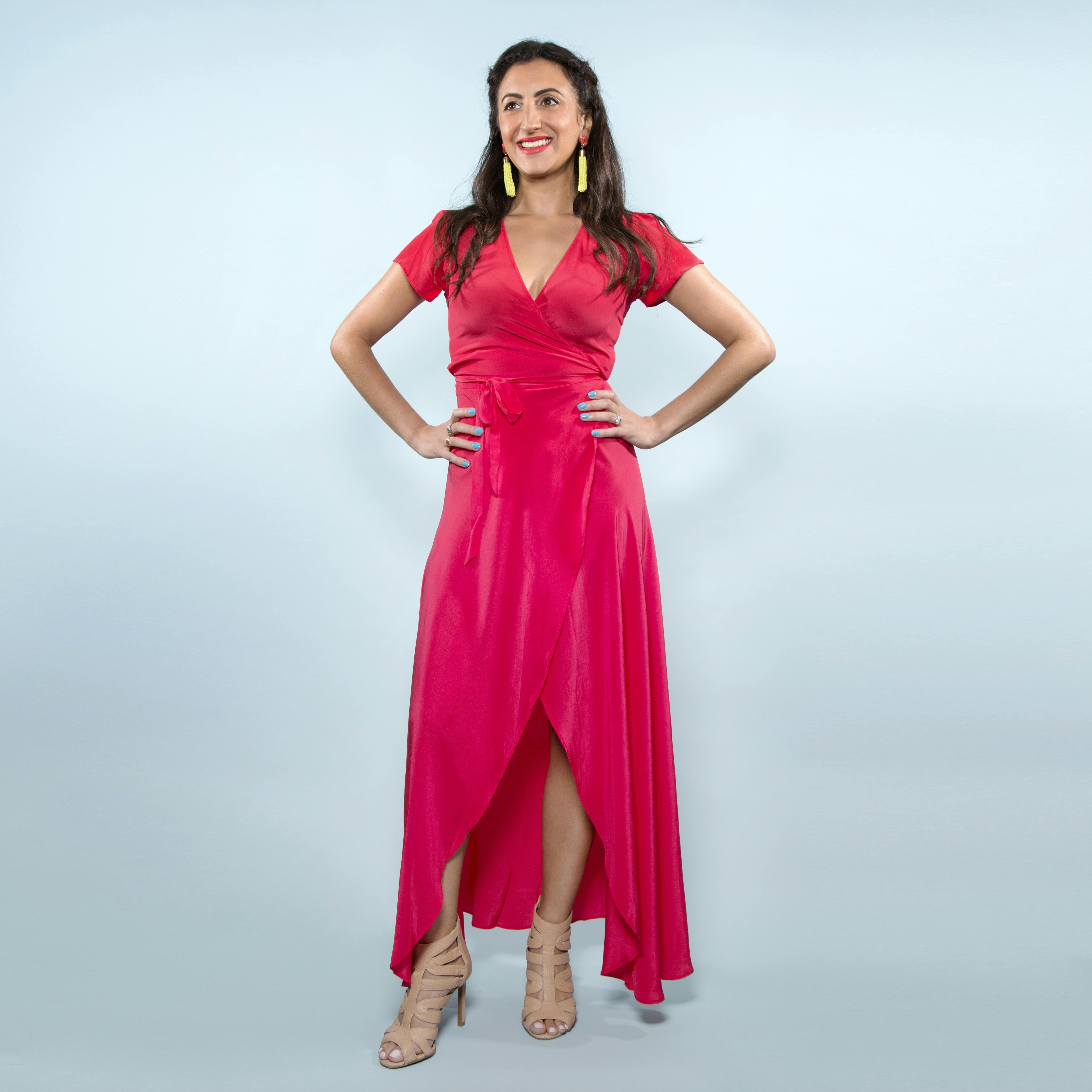 The Wedding: A Balmy Ceremony in St. Petersburg, FL
##The Look: Tropical Teal Eyes and Mermaid Hair
Makeup: The weather in Florida was hot, hot, hot, so I went with the flow and modeled my look after this super summery makeup tutorial Juliette just shot. I smudged Jouers Crme Eyeshadow Crayon in Rococo on my top lash line and blended it upward, then used Cynthia Rowley Beauty Eyeliner in Sky Blue in my waterline for a fun pop of color that looked even more unexpected against my red dress. I kept my lip simple a swipe of tinted gloss so it wouldnt compete with my eyes.
Hair: Instead of a sleek, straight look, I used a wand and PARLOR Sea Salt Spray to create big, beachy waves, which make frizz look more flattering if humidity hits and Im glad I did we ran into a major thunderstorm on the way to the venue! I rounded out my look with some dainty gold Gorjana jewelry to complement (not compete!) with the bold makeup and big hair.
The Wedding: A Best Friends Formal Bash in Boston, MA
##The Look: Shimmery Eyes, Bold Lips, and Half-Back Braids
Makeup: For the second wedding, I was inspired by the wedding guest look Birchbox BFF Deepica created in a recent video. I followed her lead and layered shimmery shadows on my lid and lining my bottom lash line with CRBs eyeliner in Shimmery Brown. Then I created a cat-eye using a precise liquid liner like Smashboxs Limitless Liquid Liner Pen. I finished the look with a super bold lipI went with stilas liquid lipstick in Venezia, a virbant coral with hints of red, to match my dress!
Hair: For this chic city ceremony, I wanted to make my waves look a little more formal, so I dressed them up with statement earrings from BaubleBar, and did my own take on the half-up, half-down trend, aka using Dutch braids to pull my hair back and showcase my jewelry. I loved this style so much I filmed a tutorial for it so you can try it out at the next wedding on your calendar. Bonus: this look is super easy to turn into a full-on updo if it starts getting too hot on the dancefloor!