Pop Culture · February 23, 2015
Oscars 2015: We Can't Peel Our Eyes Off That Red Tux
During Sunday's Academy Awards telecast, the camera panned towards Oprah numerous times, but rarely was she the center of its gaze. Instead, her Selma co-star, David Oyelowo (who also starred in Interstellar and A Most Violent Year in 2014), was the lens' muse. The actor capped a banner year by wearing the boldest colorand how, with a vest and bow tie to matchon Hollywood's biggest night.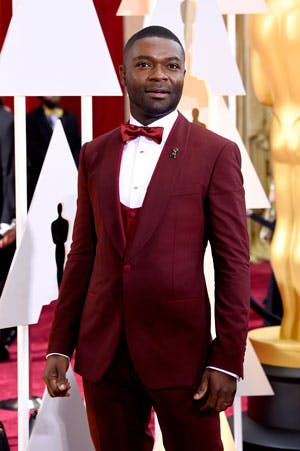 While midnight blue was the color to wear in 2014 (It also made a strong showing this year thanks to Best Actor winner Eddie Redmayne and host Neil Patrick Harris.), Oyelowo's deep red Dolce & Gabbana shawl-lapel tuxedo stood out as most memorable this time. Emcee Harris even worked a red tux into his wardrobe rotation (between the midnight blue and the tightie whities), but we've got to give the Best Dressed prize to the dapper Mr. Oyelowo, who himself was snubbed of a greater accolade for his performance as Dr. Martin Luther King, Jr.
And what exactly is a shawl lapel? Take notice of how Oyelowo's tuxedo lapel has a continuous curve (no points) as it wraps the neck and descends down the front of the jacket.
Photo: Frazer Harrison / Getty