Fitness · January 22, 2015
How to: Exercise-Proof Your Makeup Routine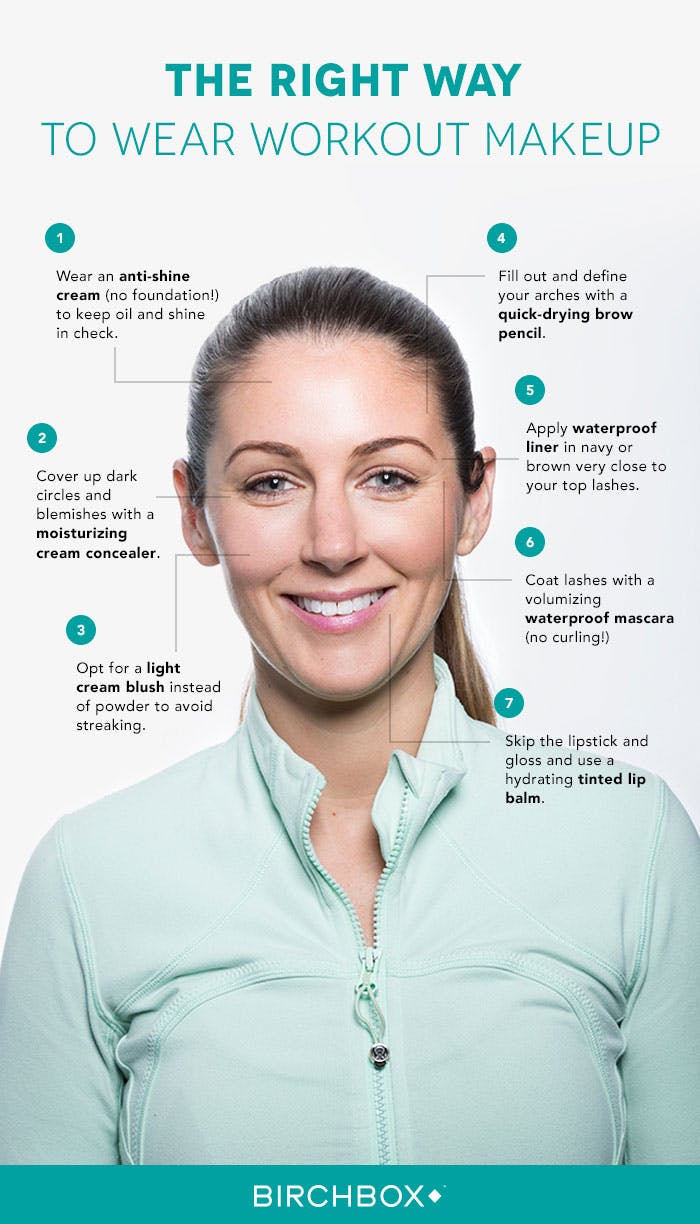 1. Skin

Instead of applying a BB cream or foundation, which can clog pores and wind up smeared all over your towel, opt for an anti-shine cream like Youngbloods Mattifier. The balm-like formula keeps oil in check and blends seamlessly into your skin, says Cruze.
2. Blemishes

To camouflage dark circles and blemishes, spot treat with a moisturizing cream concealer that will stay put like Miracle Skin Transformer Treat & Conceal Eye & Face.
3. Cheeks

All that sweating can turn powder blushes into a clownish mess, so Cruze advises opting for blendable formulas, like Marcelle Cream Blush, which give skin a soft glow. Exercising will give your skin a natural flush, so downgrade to a slightly lighter shade than normal to avoid looking too rosy.
4. Brows

Well-groomed arches are an easy way to look instantly polished, says Cruze. Anastasia Beverly Hills Brow Pen glides on easily to fill sparse spots and create definition, and it dries quickly and is long-lasting, so it wont budge during your sweat session.
5. Eyeliner

To make sure youre the only one doing the running, apply a thin coat of waterproof liner, like Noir Cosmetics Long-Wear Eyeliner, as close to your lash line as possible (no wings!). Navy matte or deep brown matte shades offer great definition without looking as harsh as black can, says Cruze.
6. Mascara

Use a waterproof mascara like Mallys Beauty Volumizing one. And skip the curler, which can leave lashes looking artificially crimped. Instead, blink lashes onto your knuckle after applying mascara, says Cruze, gently pushing upwards to guide lashes to dry in a naturally extended direction.
7. Lips

Skip the bold lipsticks (which are prone to smudge when exercising, even with the mightiest primer) and opt for a subtly tinted lip balm, says Cruze. Benefit Posiebalms hydrating formula soothes dry lips while bringing out your natural lip shade.
Kelly Mickle