Fitness · May 28, 2015
How To: Choose the Right Water Bottle (for Just About Anything)
For the Gym: KOR Aura Water Bottle

Endurance starts here. Made from a durable BPA-free and FDA-approved proprietary material, this bottle has a sleek, ergonomic shape that fits easily in your bag (or your hand, during circuit workouts). Other features include a carrying handle, a wide (read: chug-friendly) threadless spout, and a covered cap to keep out germsso you can sip as you sweat.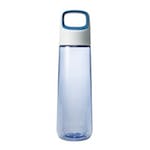 For the Office: Mizu M4 Water Bottle

A smaller bottle is key in an office setting. Regular trips to the water cooler keep you moving at a sedentary gigand are a great time to catch up with your colleagues. This 14-oz. bottle hits that sweet spot between a cup and a jug, making for comfortable sipping throughout the day. In BPA-free stainless steel with a matte, opaque finish, it keeps H2O super cool through epic meetings.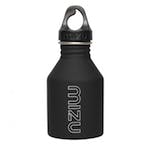 For the Hiking Trail: Izola Water Bottle

The wilderness is one place you cant afford to be left high and dry. In a generous 25-oz. size, this rucksack-ready stainless steel vessel is made to take a beating. Its classic thermos design is a functional throwback, insulating both hot and cold beverages without the risk of spillage.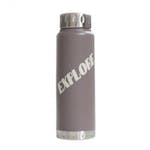 For Traveling Abroad: KOR Nava Water Bottle

When filling up from airport water fountains and hotel taps, choose a container that emphasizes freshness and taste. Made from the same durable, BPA-free material as the Aura, this bottle features a filter of pure coconut shells, converted to activated carbon to eliminate unpalatable tastes and smells. A cushioned rubber base prevents slipping and protects surfaceswherever they may be.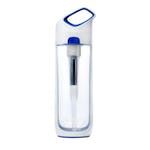 For Saving the Planet: Swell 17 oz. Bottle

Any reusable water bottle will do wonders for your health, your wallet, and your planet. Go super green with one of Swells insulating vessels, which also come in 9-oz. and 25-oz. sizes. Each purchase will help fund clean drinking water for kids around the worldand the sale of any wood-finish bottle will also enable Swell to plant a tree with American forests.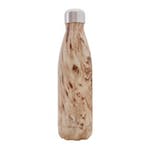 For Social Good: Miir Classic Water Bottle

Not only does this compact stainless steel vessel hold over a half-liter of liquidit also makes an impact way beyond sustained hydration. Each bottle purchased provides one person in need with clean water for an entire year, satisfying both thirst and social conscience.