Holiday · December 24, 2018
Step-by-Step Beauty for 3 Different New Years Eve Plans

##When Youre Staying In
New Years Eve not your thing, or just feel tired out from all of its grand expectations? The night the ball drops is a perfect time to forego FOMO, watch Ryan Seacrest on TV, and perform a bit of self-care. After all, youve accomplished great things this yearso sit back, settle in, and get ready to pamper yourself.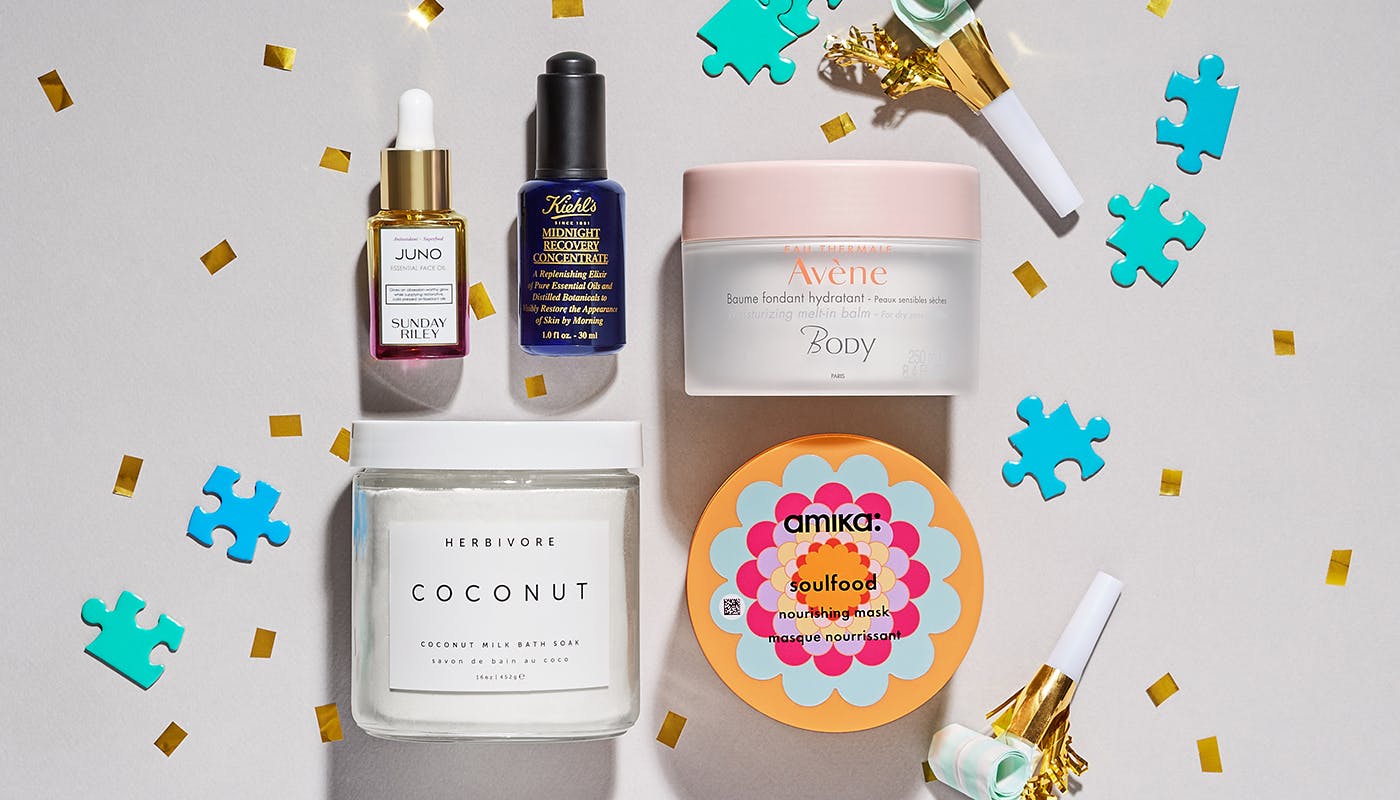 FOR YOUR HAIR:
Wash off the day (and all of 2018) in the shower, where youll apply amikas Soulfood Nourishing Mask to your hair after shampooing. It fights split ends and dryness with sea buckthorn berry and jojoba oil, so during the 5-10 minutes it soaks in youll be both repairing damage and intensely hydrating.
FOR YOUR BODY:
Next, draw yourself a bath (were going for full-on relaxation mode here, so really soak in this step). Add some Herbivore Botanicals Coconut Milk Bath Soak to the water just before you get in and breathe in its intoxicating scent (its made with coconut and vanilla, so its hydrating, too). After hopping out and lightly drying off, apply a generous layer of Avnes Moisturizing Melt-In Balm. Its decadent texture will soften your skin and lock in the moisture from the bath soak even further.
FOR YOUR SKIN:
You have the whole night ahead of you, so take some time for the Huxley Secret of Sahara Mask: Oil and Extractitll be worth it. First, fold the oil pouch until it bursts and moistens the sheet mask, which you can then apply to your skin. Both are infused with prickly pear cactus extract, which makes your skin plump and radiant and (bonus!) helps the next products absorb better. Plop in front of the TV or behind a book and leave it on for 15-20 minutes. After, give a nod to the hour by patting on some Kiehl's Midnight Recovery Concentrateyour skin repairs itself naturally at night, and this serum infuses it with nourishing botanicals to create a smoother, more hydrated complexion. As a final step, do as the beauty editors do by using Sunday Rileys Juno Antioxidant + Superfood Face Oil. Spread the soothing blend of cold-pressed superfood seed oils, vitamins A and C, essential amino acids, and omegas 3, 6, and 9 over your face to give it long-lasting moisture and anti-aging benefits.

##When Youre Heading Out
Youre trying to find the perfect balance between a quiet night in and a night on the town. Maybe you planned drinks with friends, or an intimate dinner with someone special. We have a low-key routine that will make you feel put together but not over the top.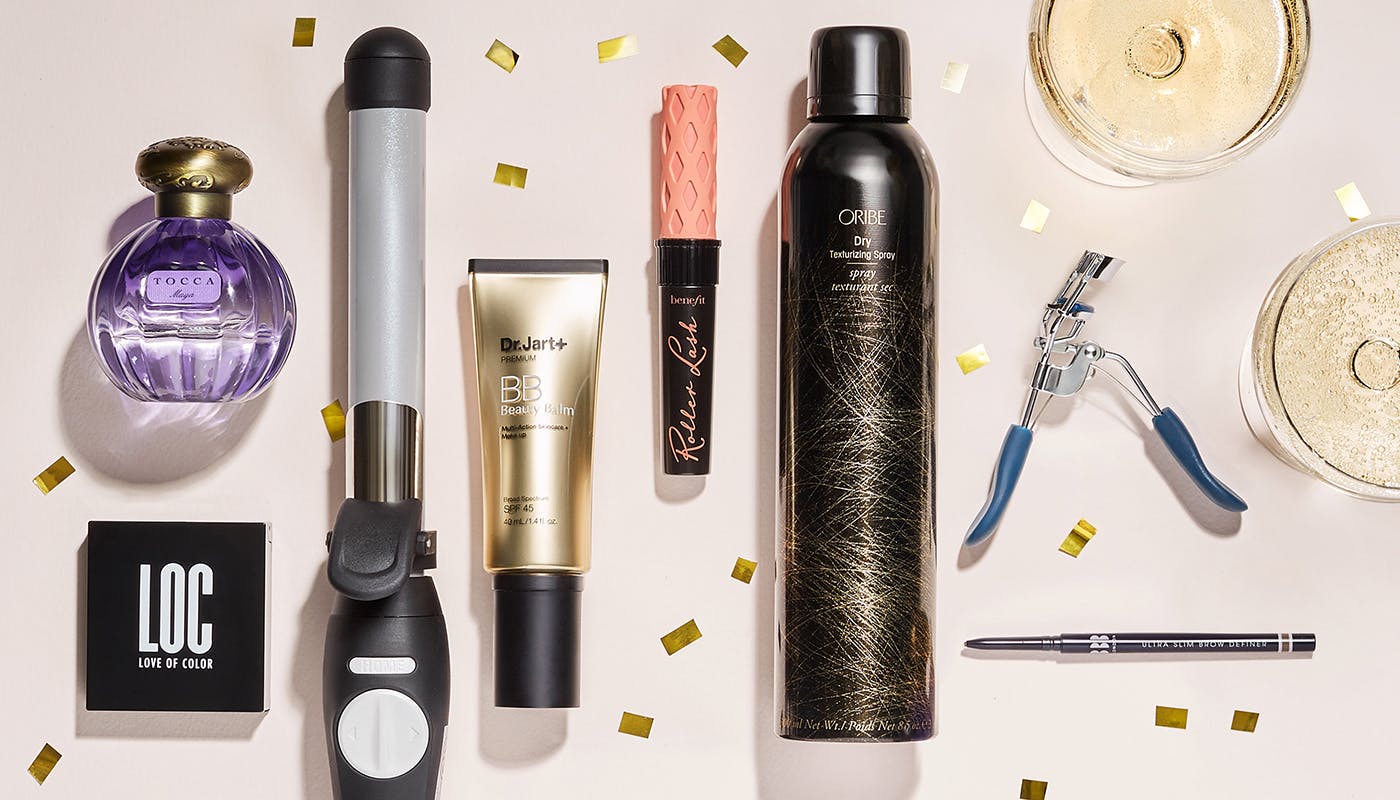 FOR YOUR HAIR:
Start by styling some loose curls into your hair with the easy-to-use Beachwaver S1, which does the manual labor for you by mechanically turning to curl each section of your hair. Then, flip your hair over and mist Oribe Dry Texturizing Spray all over or just wherever you want more body. Dont skip this partits where the magic really happens, and youll be getting compliments on your hair all night.
FOR MAKEUP:
Go for a no-makeup makeup look with just the tiniest bit of oomph. Start by blending Dr. Jart+ Premium Beauty Balm SPF 45 all over. Next, dab color onto your lips, cheeks, eyes, and the high points of your face with the all-in-one Love of Color Glow Squad Quad, which has three highlighter shades that double as eyeshadow as well as a lip and cheek tint. Fill in your brows with the tiny, hair-like strokes of the BBB London Ultra Slim Brow Definer for extra fullness. Finish by curling your lashes and swiping on a few coats of Benefit Cosmetics Roller Lash Super-Curling & Lifting Mascara so you look wide awake, even if you dont feel it.
FOR YOUR BODY:
Finish with a spritz of TOCCA Maya, which blend notes of sweet violet leaf and black currant for a floral scent that your companions will remember.

##When Youre Going All Out
Its New Years Eve, and youre not letting it get away from you without going full-on glam: done-up hair, glittery eyes, and your best dress included. Whatever going all out means for you, you need a look (ahem: this one) to match so you can feel your most confident throughout the night.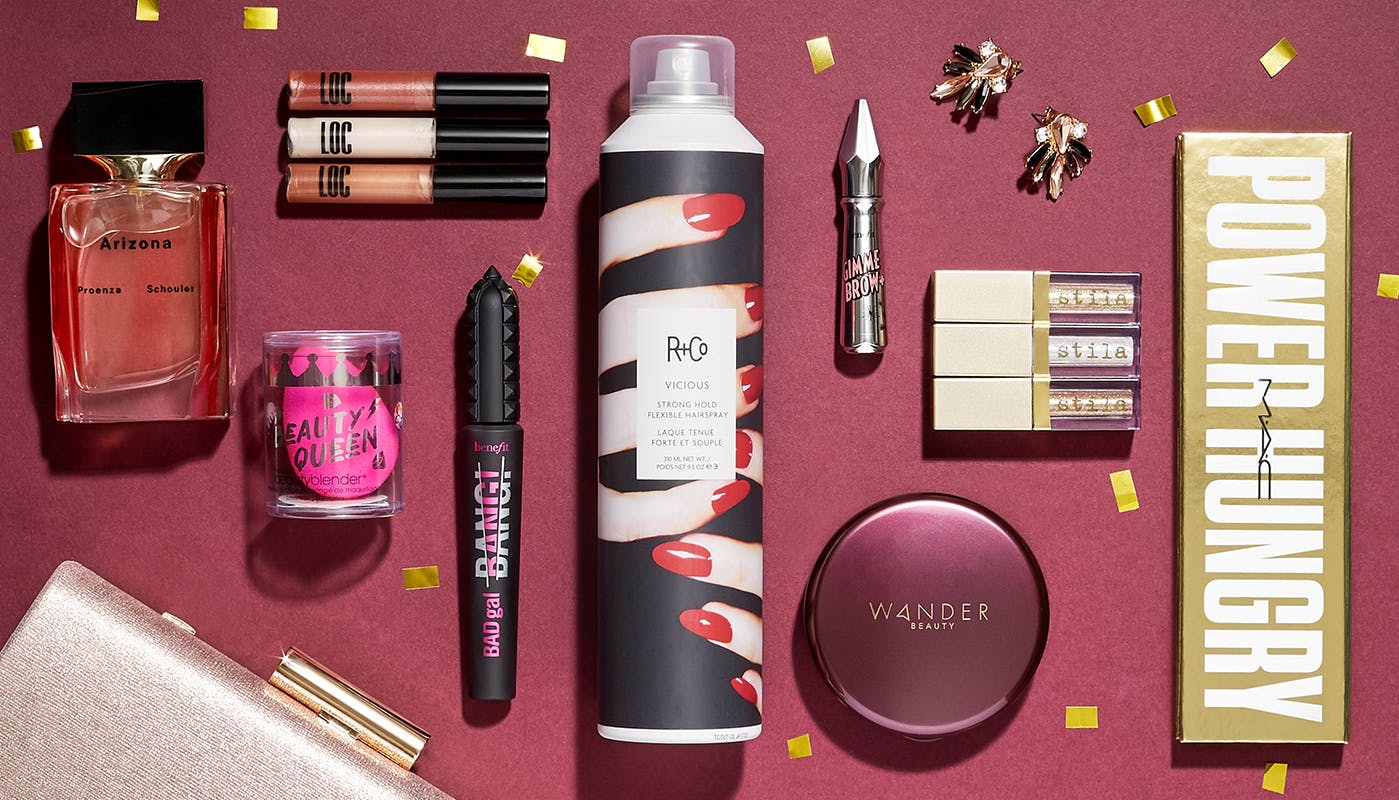 FOR MAKEUP:
Dampen a beautyblender and dab it onto your face to seamlessly blend in your foundation of choice. You want your skin dewy tonight so it looks dimensional (and can catch the reflection of the disco ball). Lightly dust Wander Beauty Wanderlust Powder Foundation all over to hide any stubborn blemishes and set your foundation. Next, apply your shadows of choice from the MAC Cosmetics Girls Palette in Power Hungry to your lids using your fingers or an eyeshadow brush, then dust the included highlighter on the high points of your face and the inner corners of your eyes. Heres where it gets fun: Pick one of the three shades in the Stila Cosmetics 3D Dazzle Glitter & Glow Liquid Eye Shadow Set and swipe it over your eyeshadow. This not only adds drama, but youll stand out in the crowd of other revelers. To make your eyes pop even more, define your brows with Benefit Cosmetics Gimme Brow+ Volumizing Eyebrow Gel and amplify your lashes with their BADgal BANG! Bigger, Badder, Volumizing Mascara. Choose a lip color that makes you feel confident, and top it with one of the shades from the Love of Color Luminous Lip Shine Trio so it shines. Voil!
FOR YOUR HAIR:
This is your night, so style your hair however you fancy(or go for a dramatic updo). You want your creation to last the whole night through, so whatever you do, set it with R+Co VICIOUS Strong Hold Flexible Hairspray, which delivers hold without the crunch.
FOR YOUR BODY:
Theres no better fragrance to top off your look before you head out than Proenza Schouler Arizona. The floral scent balances notes of white cactus flower with musk, which is rich and noticeable without being too overbearing. Spritz, go out, and prosper!