Fitness · January 29, 2015
Why I Always Wear Makeup When I Work Out
A good workout is all about connecting to your body, sweating out toxins, and getting your natural glow on. Doing it bare-faced makes sense, right? But for me, wearing makeup while I exercise actually feels more natural. Why? Theres only one thing that explains it: I was a dance kidthat's me, on the left, backstage after a high school musical.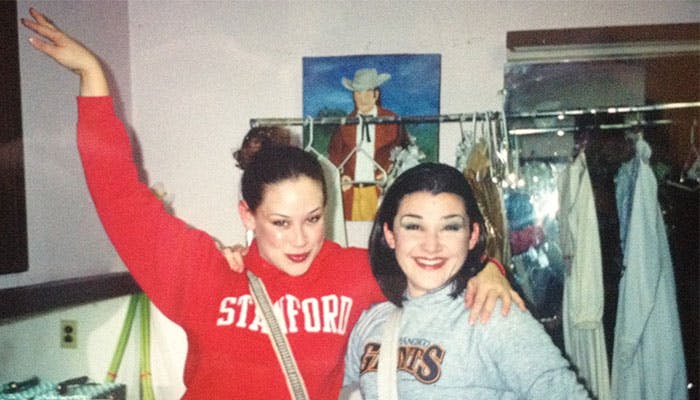 From a young age, I associated wearing makeup with the reward of moving my body in a way that feels healthy and beautiful. As a kid, getting to put on a little lipstick and eye shadow before a performance made the experience more specialit helped me to slip into character, and connect more deeply to the movements. (Plus, it was the only time I was allowed to wear makeupa big deal for a girl who obsessed over Kevyn Aucoins The Art of Makeup.)
Through the years, the amount of makeup Ive worn when exercising has fluctuated. During college, I was a bit more heavy-handed, using my liquid foundation, concealer, powder, eye liner, mascara, and lip gloss every time I went to the gym, on a run, or took a dance class. Due to growth spurts and the unfortunate Freshman 15, my body was constantly changing back then. Wearing my regular makeup helped me feel more like myself, in a way. Besides, I never knew who Id run into at the gym!
Now, my approach is more low-keyI have a busy schedule and feel much more comfortable in my own skin. I apply a light coat of Smashbox Camera Ready BB Cream Broad Spectrum SPF 35, a dusting of Laura Mercier Oil-Free Loose Setting Powder to keep grease in check, waterproof mascara that won't run (LOreal Voluminous is a long-time favorite), a dab of cream blush on the apples of my cheeks, and some lip gloss or balm. It sounds like a lot of products, but they're all applied quickly with my fingers in around five minutes and make me look healthy and fresh-faced no matter what time of year it is.
Though its been years since my last real dance performance (Ive since added yoga and personal training to my workout repertoire), the desire to look my best while I physically put my best self forward remains intact. And while I have no problem letting other people see my face makeup-freeI celebrate and appreciate my features just as they are, especially as I get olderseeing myself with clear, glowing skin and a little gloss is a major motivator to go the extra mile, hold the pose longer, and do something thats good for my body, head to toe.