Makeup · September 14, 2015
How to: Create a Smoky Eye with One, Two, or Three Shadows
With all the elaborate tutorials and million-pan eye shadow palettes out there, mastering the smoky eye can seem like a full-time job. But creating a hazy effect on your lids doesnt have to be a complicated affair involving a rainbow of shadows and multiple makeup brusheseven if youre a beauty novice, you can craft a simplified (yet still smoldering) look designed to bring out your best features. We got creative with a few shades from POP Beautys Bright Up Your Life Eye Shadow Palettesa current favorite thanks to their silky texture and serious color payoffto prove that theres a smoky style to fit every skill level.
If Youre a BeginnerTry The One-Color Smoky Eye
First-timers can build a smoky look using a single shadow in a dark color, like the shimmery chocolate brown in the Naturally Bare palette, which we used here on Birchbox staffer Whitney. After youve primed your lids, dust a shadow brush with your color of choice, and begin applying the powder to the outer corner of your eye. Use the brush to blend the shadow in a sideways V-shape, taking it into the crease and diffusing it with a back and forth, windshield wiper-like motion. Trace a small amount of the shadow along the lower lash line, apply mascara, and youre out the door.
If Youve Got the Basics DownAdd a Second Shade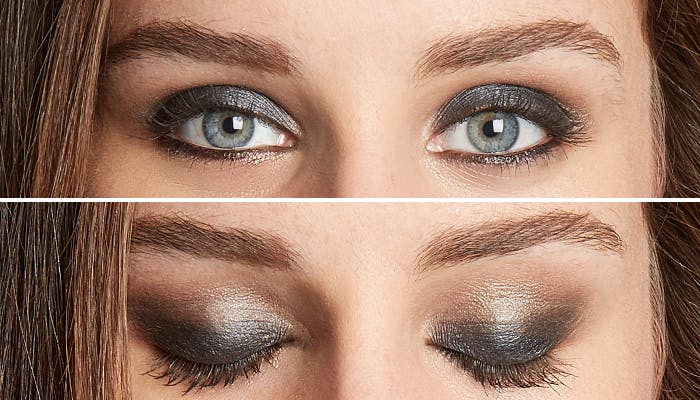 Once youve nailed the basics of blending, youre ready to add more detail to your look. For this two-color version, youll want to start with a dark shade (like the charcoal gray in the Smokin Hot palette, which we used here) and concentrate the color in the center of the eye. Use a clean blending brush to feather the shadow outwards, softening the edges and sweeping the shade along the bottom lashes. With the same blending brush, pick up a lighter shade (we used a medium taupe from the Naturally Bare palette) and blend it into the crease, overlapping the first shade to create an ombr effect. For extra drama, use a black pencil to tightline the top and bottom rims.
If Youre Pretty Good at This Whole Makeup ThingIncorporate a Something Bright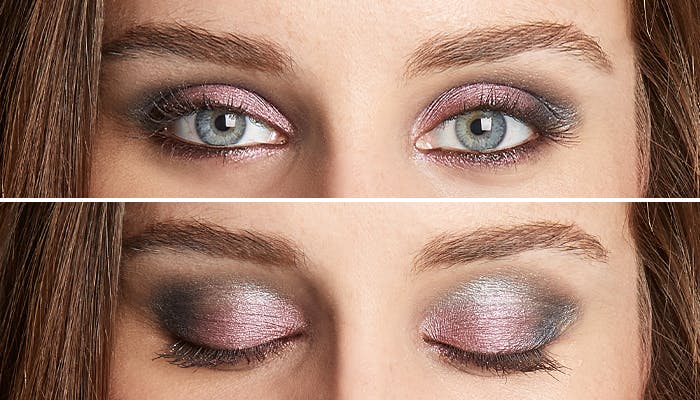 To get a bold look with minimal effort, start by shading your entire lid with a statement-making color, like this orchid purple from the Smokin' Hot palette. Add a slightly darker, neutral shade to the outer corners of the eyes to balance out the brightness (we used a medium gray), and blend a silver shadowthis pale, shimmery gray works nicelyinto the crease. Finish by tracing a purple eyeliner pencil along the top and bottom waterlines, and blending your purple shadow into the lower lashes. The same technique works with blues, greens, and even burgundieswhich means none of the shades in your palette will go unused.
Author
Wendy Rodewald-Sulz
Recovering gel manicure addict, amateur Spotify DJ, expert roller skater.