Hair Tutorials · May 12, 2016
The Birchbox Guide to the Best Wedding Hairstyles
##The Rolled Updo
Let your dress be the center of attention with this simple-yet-chic hairdo. First create soft beach waves, add a pretty statement headband, then simply roll the ends of your hair into the elastic of the headband. Pressed for time? With only three steps, this look doesnt even require a single bobby pin.
##Half Up Crown Braid
Show off your moves on the dance floor without worrying about your style falling apart by wearing this sophisticated half-crown braid. Keep your hair out of your eyes by braiding the front sections, then simply pin them down and spritz with a texture spray for maximum hold.
##The 60s Bouffant
Feeling a little retro? Add to a vintage-themed wedding with this glamorous, Brigitte Bardot-inspired look. First, use the Spornette Little Wonder to tease already-curled hair. Then add some Oribe Dry Texturizing Spray to achieve enviable volume that will last from the ceremony to the after party.
##The Waterfall Braid
Whether youre living it up on a beautiful island or flying off to a quaint European city, this romantic waterfall braid is perfect for a destination wedding. Dont be intimidated by this seemingly complicated braidsuitable for both long and short lengths, the waterfall technique looks intricate but is actually a breeze to style. Finish the look with an oil like Davines OI/Oil Absolute Beautifying Potion to tame flyaways and add shine.
##The Dutch Bun
Summer weddings can be notoriously hot. Here, Birchbox staffer Rachel shows you how to keep your cool (and show off your accessories) in even the most unbearable heat with this easy updo featuring two Dutch braids.
##Hollywood Waves
For a timeless look that never fails, dazzle guests with effortless waves. Use a wand to curl one-inch sections of hair all in the same direction. Once youve finished, gently brush out your waves for a soft, 50s-style look.

##Emily Blunts Braided Updo
If youre a romantic at heart (admit it, you always cry at weddings!), then channel your inner lovebird with Emily Blunts braided look. Tip: For fine textures, use a product like Serge Normant Dream Big Instant Volumizing Spray to add grip and hold before you start braiding.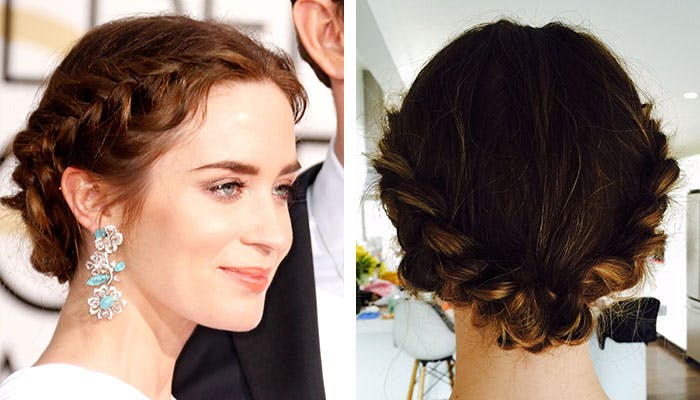 ##Low Rolled Updo
Less time spent touching up your hair means more time on the dance floor. Keep your hair easy and simple with this two-minute hairstyle.
##The Reverse Fishtail Braid
Think that a fishtail braid is too boho for a wedding? Think again. When the dress code is less formal, try this relaxed-yet-dressy option. (If youre in the wedding, consider adoring your braid with fresh flowers.)
##Half Braided Updo
If the wedding is a black tie affair, opt for a look that is equal parts polished and elegant. After finishing your braid, pin down the remaining twisted sections of your hair in any way you like, and youre out the door.
Author
Bethel Hailu-dejene
Birchbox intern, self-proclaimed epicure, hip-hop enthusiast, and recovering hair product junkie.